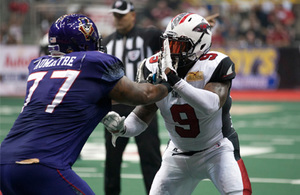 After an offseason of uncertainty; the New Orleans Voodoo will open their 2015 regular season at home against the Jacksonville Sharks on Saturday night in the Smoothie King Center. The Voodoo will look to play spoiler against a team that is coming in as the hot pick in the American Conference.
Offseason acquisitions like Tommy Grady; Tiger Jones; Joe Hills; Joe Sykes, and Derrick Ross will no doubt be a force in the AFL this season. Last season the Sharks finished 7-11; missing the playoffs for the first time in team history. With these acquisitions; the Sharks are sure to be back in action this year. Jacksonville also signed former Talons cornerback Carlton Brown and all arena center Antonio Narcisse from the Pittsburgh Power.
The Voodoo on the other hand are a different story. Since returning in 2011, the Voodoo are 8-28. The franchise went 3-15 last season in a year that was marked by ownership. There were rumors that the Voodoo would not return in 2015 after owner Dan Newman underwent issues. However, it didn't stop this team from making a splash in free agency, signing explosive players like former Soul DB Rashaun Kizer and former Predator DB Tracy Belton. The Voodoo look stacked on defense, but the offense could still use some help. The team struggled at the quarterback position last year due to injuries. However, Adam Kennedy came in late last year and played as if he may be looked at as the franchise player. If the Voodoo can make some noise on offense, they could be dangerous.
This is the 9th meeting all time between the Sharks and the Voodoo. Jacksonville leads the series 6-2, but the Voodoo spoiled the Sharks' playoff fait in a 36-35 season finale win. Kickoff is set for 8pm ET on ESPN3.com.
Other notes:
The Sharks come in as a 10.5 point favorite